We know travelling is good and we know how much you love to travel and unwind. As you are planning on taking a summer break away from the hustle this year, here are some beautiful landscape and stress-relieving places to visit and ease-off in Turkey this summer.
1. ANTALYA 
Antalya is an attractive city with shady palm-lined boulevards in Turkey. It is the fifth-most populous city in the country and the capital of its eponymous province. Located on a cliff in the southern part of Anatolia peninsula, on the shores of the Mediterranean Sea (ancient Pamphylia).
 Antalya is a Turkish resort city with a yacht-filled Old Harbor and beaches flanked by large hotels. Located in this eye-catching seaside life are beautiful Luxury hotels to unwind such as Sealife Family Resort, Basaran Business hotel, Hotel SU & Aqualand among others
2. BODRUM
There is no denying that visiting the Bodrum Peninsula of Turkey will introduce you to one of the most picturesque places in the country
Often reflected in travel brochures with images of sugar-cubed houses dotted over the green hillsides, it covers a large space on the Aegean coast of Turkey opposite the Greek Island of Kos _ Credits: Turkish Travel Blog.
Although beaches in Bodrum can be quite remote and this is a good idea to escape from the busy busy world into a peaceful sea-sighting experience. among these are Ilgin Beach located in the village of Mazi, Akyarlar Beach, Kargi Beach and among other beautiful fun site.
3. PATARA
At 11 miles, unspoilt Patara is Turkey's longest beach.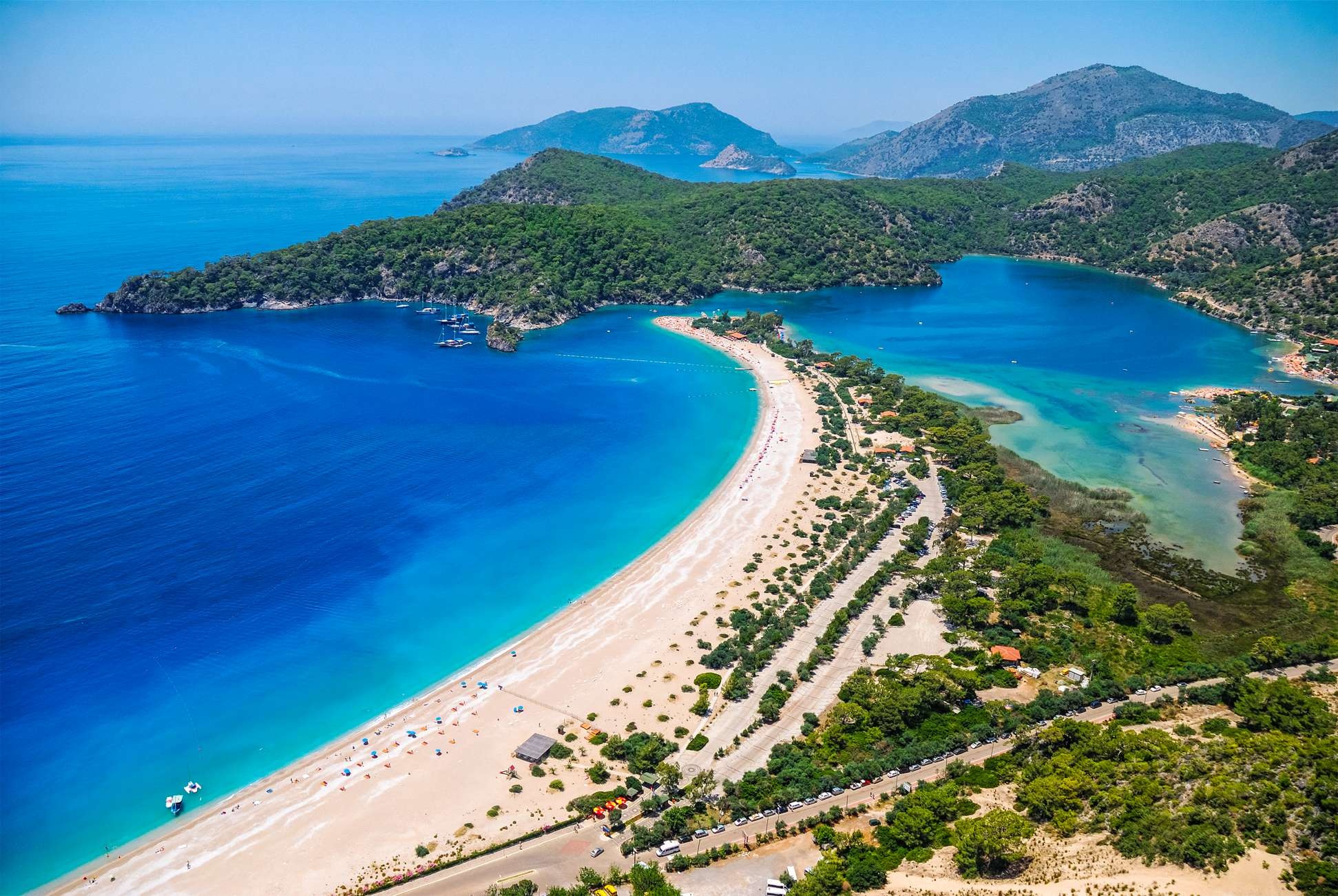 Even more important, Patara has escaped the development that mars many lesser beaches around the Mediterranean, thanks to the ruins of the once mighty ancient city from which the beach gets its name….From the south-east end of the beach, you can admire the distant towering limestone peaks of Lycia _ Credits: The Telegraph
In this spectacular city with all its history and beauty are located beautiful and affordable hotels to have a fun-filled experince. some of the top hotels includes Rose Pension, Golden Lighthouse Hotel, Dardanos Hotel and the list goes on.
4. DALYAN
Dalyan is a town on the Dalyan River, just inland from Turkey's southwest coast. Across the river from town is the ancient ruined city of Kaunos, with Lycian rock tombs and the remains of a theater good for historical sight-seeing _ just in case you love to see the how it was in those days (smiles) 
In the Ortaca district of the Province of Mugla in southwestern Turkey lies the stunning Iztuzu Beach, a 4.5 km long beach near Dalyan.
5. Ölüdeniz
Ölüdeniz, Known for its calm waters even during storms is a small village and beach resort in the Fethiye district of Mugla Province, on the turquoise coast of southwestern Turkey, at the conjunction point of the Aegean and Mediterranean seas.
The seawater of Ölüdeniz is famous for its shades of turquoise and aquamarine blue, while its beach is an official Blue Flag beach _ credits: Wikipedia
Planning on visiting the all beautiful blueish Ölüdeniz this coming summer? Here are some of the exquisite hotels to visit: Oyster residences, Symbola Oludeniz beach hotel, Magic tulip hotel among others.
All looking great right? Now that you have these beautiful options on the list, you may be wondering how do i get started. No worries, that is why we are here to guide you in just a click away, including Visa preparation, hotel reservations and easy flight bookings.